What's the best way for me to get fitter?
How physically active are you?
First of all, it's worthwhile finding out how physically active  you currently are.  A simple screening tool used by general health practitioners gives an index which you can apply to yourself.  Just answer a few simple questions and it will give you a score.  You can download it in the More Info section below, either as a PDF which you can fill in or an Excel spreadsheet, which automatically gives you a reading.  You'll need to download the guidelines too.
See the considerations below and then decide what's the best approach for you.
How much exercise do I need?
The NHS have lots of information on how much exercise is good for you – to some extent it depends on your age.  They say 150 minutes of moderate (or 75 minutes of vigorous) aerobic activity with strength exercises on 2 days a week.  They also say you shouldn't spend too long sitting – working at a computer or watching TV – this can undo the good done by exercise. This is shown on their website here.
I want to get fitter and I know exercise is good for me, so
I'll take charge myself
I'm going to need some help and support
I'm going to take charge myself
The NHS give a good overview of exercise.  They give guidelines for adults and also describe exactly what exactly constitutes moderate and vigorous exercise, and what strengthens muscles – click here.  
Easy Start
If you want to start easily, without going to a gym or using a lot of equipment. the NHS has a series of 10 minute workouts, which you do at home, one for each day. 
Before you start it's important to warm up to prevent injury – they recommend 3 minutes marching on the spot, do 60 heel digs in 60 seconds, do 30 knee lifts in 30 seconds, 2 sets of 10 shoulder rolls and 10 knee bends – click here for more details. 
Then you can do one  or all of these 10 minute workouts:
There are also videos on different types of exercise in the NHS Fitness Studio here – including:
Aerobic exercise
Strength and resistance
Pilates and yoga
Other fitness plans
NHS 12 week Fitness Plan
This is an activity plan for beginners which only needs an MP3 player smartphone and a pair of running shoes.  You need to download the plan itself and all the podcasts – you can do this from our site below, or log on to the NHS website here.
Each week there's 6 days of exercises and a rest day, and it starts slowly and builds up so that "anyone can do it"!  It's better if you plan the workouts around your other commitments. 
This incorporates the Couch to 5K plan, aimed to get you off the couch and running in just 9 weeks.  You can download the app and follow the instructions. 
I'll get support and help
Become more active
If the overall objective is just to become more active, then there are activity based organisations in most local authorities.  Just type 'be active' into your broswer and you'll see the results.  For Birmingham it's the Active Wellbeing Society – for more information click here. 
Walking
Walking for Health shows organisations near you which have organised walks led by specially trained volunteers – click here. 
Aquajogging
Just Swim extols the benefits of this – it has all the benefits of running but is less likely to cause your body any damage – it involves using a flotation device around your middle and then moving your legs and arms to 'run' under the water. To see more – click here. 
Running
RunTogether shows organisations near you which have organised runs / jogs in groups   – click here. 
Running
RunTogether shows organisations near you which have organised runs / jogs in groups   – click here. 
Parks
ParkLives is free and shows the best way to get the best from your local park – easy to join in and free – click here.
Join a gym
UKActive is an organisation aimed at making people more active more often, through strategic partnerships – -they can help you find a gym near you -click here.
Other Sports
BeInspired is supported by UK  Sports and Sports England, and is lottery funded – it provides information on how to get into lots of different sports (and how to watch them in case you want to see what's involved!). To see this click here.
You can see more below, or go back to FitnessDrive or Home
In both cases you can use technical support...
These days everything has an app, and some people use these to help them monitor their progress and also to add some different angles to what can be a boring or difficult regime.  
You can also use standard apps for your phone such as:
Google Fit, which monitors 'Move Minutes' and 'Heart Points'
Apple Health which gathers info from your iPhone, Apple Watch and other apps you use
MyFitnessPal – works on Apple and Android – it syncs with MapMyRun too – it has loads of food data as well so you manage your exercise and calorie intake together
FitBit – you can use without a FitBit watch, but it's better with, and they cost money!
 ActivityTracker – works on Android and Apple  and doesn't use GPS so it will not drain your battery as quickly!
Fitocracy – gamifies your fitness – you get points for logging different exercises and unlock new levels and achievements.
The British Heart Foundation list their favourite fun apps to help you get fit here.
In addition, OneYou has apps to help in a number of areas:
Active10 – tracks walking
Couch to 5K – get running
EasyMeals – eat healthier food
There's lots of evidence that physical activity is one of the greatest aids to overall health.  Public Health England is set up to make more people more active. 
It's not all about gym membership or playing tennis.  If these just aren't you, then there are other ways to make yourself more active.
You need to think – how do I start, where do I start, alone or with someone, how's my willpower, will I stay the course or give up. If you hated sport at school and your brain doesn't get it then you are going to struggle to get into a new fitness habit. You need to take this into consideration when you are embarking on a new fitness habit. Often people who create a new habit talk about the pain barrier. It sounds painful but it's not. It just means when you do ache a bit and you feel tired you need to push yourself because if you get past this your body will get used to it and you will start to feel good. Your body will enjoy the exercise. But you don't even need to go that far. Walking is exercise. You can simply start by parking your car the furthest away from the train station or supermarket door and walking. Walk up the stairs or part stairs at work don't take the lift. If you go by bus walk to the next bus stop. Walking is very good for you. Take the train to town and walk around rather than park your car in the centre. These start the fitness journey. Once your body has started limbering up and muscles are working you can move to the next stage.
People who looked at FitnessDrive also looked at WeightDrive and ChangeDrive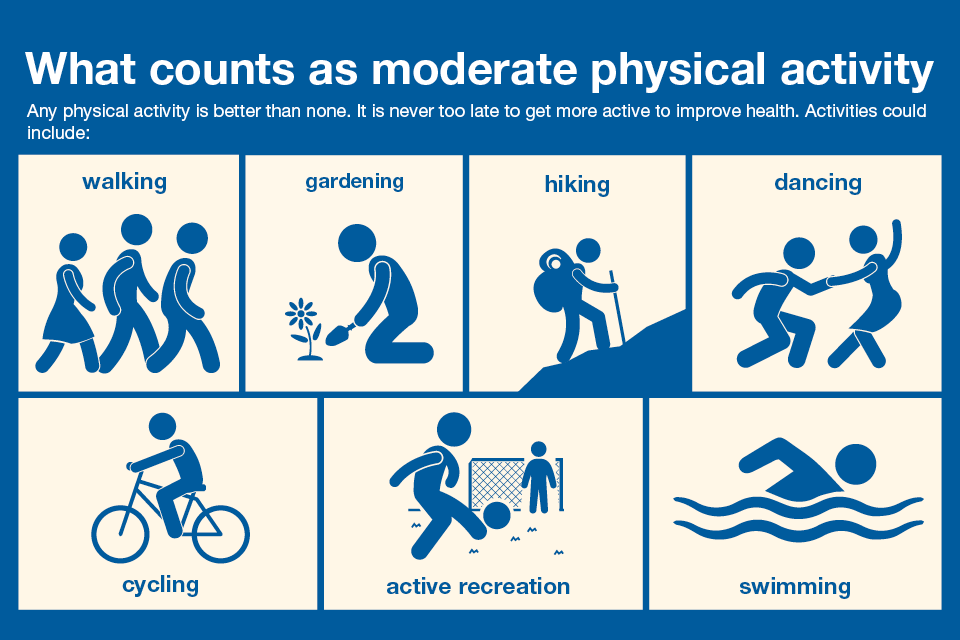 You can see more below, or go back to FitnessDrive or Home
A list of infographics from the Department of Health and Social Care explaining physical activity needed for different age ranges 
The Chief Medical Officer describes how much exercise we should be doing, with supporting documents
Cancer Research have a section on physical activity and cancer – click here to link
Download the original 2011 Start Active Stay Active report which  is by the four Chief Medical Officers of the UK
2011 Start Active Stay Active physical activity guidelines for adults (19-64) as an infographic.