11 million mortgages in the UK 2021
share of people aged 45-54 buying a house with a mortgage was 28.7% (Statista)
 469,000 homeowner re-mortgages in the UK in 2021
Couples with dependent child(ren) as a share of mortgage borrowers was 32.4% (Statista)
3.56% is the average mortgage rate 2022 in the UK
The market share of the biggest mortgage lender Lloyds banking group was 19.5% (Statista)
100 mortgage lenders in the UK
The value of gross mortgage advances in 2021 Q4 was £70.2 billion, 8.4% lower than in 2020 Q4, and the lowest level since 2020 Q3. (FCA)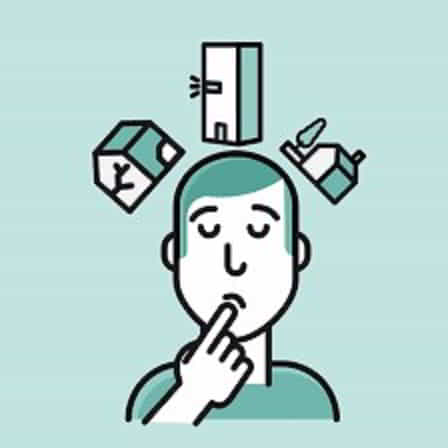 Which mortgage is best for me
To answer that question, you need to obtain financial advice from a qualified Mortgage Advisor. But before you do that you need to understand more about the types of mortgages so that when you meet with an Advisor you are not clueless and need to take their words as gospel. The more informed you are the better the chances you have of getting the right mortgage.

The first thing to consider is your own position
Your family situation matters - are you buying a property with a partner, with children (existing or planned?
Is this your first mortgage, are you re-mortgaging your existing property or are you moving house?
Is the mortgage actually for a property you plan to live in, or is it for a property you intend to rent out (known as a buy-to-let mortgage)?

Then there's the type of mortgage - is the capital repaid at the end of the term or not (repayment or interest only), how is the interest rate set out (e.g. fixed or variable), and some specialist types of mortgage.
See some details in the tabs below.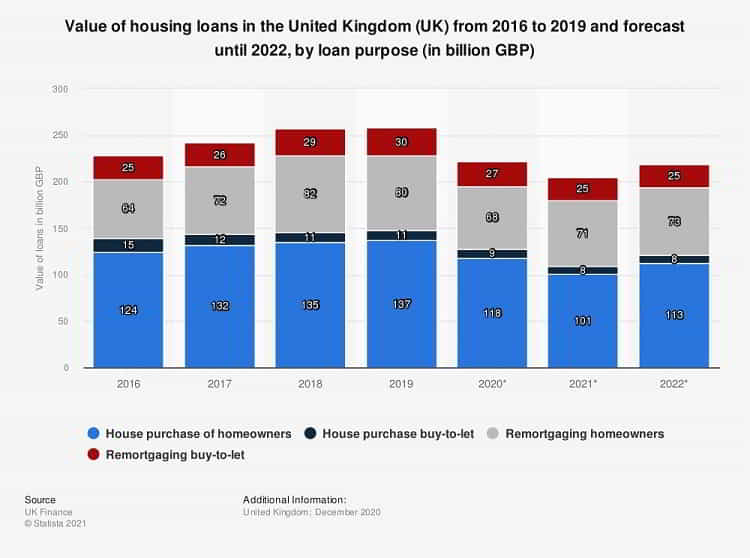 Mortgages by purpose
The chart here from Statista (sources FCA and Bank of England) shows the split between mortgages used for house purchase, remortgage, buy to let and buy to let remortgage.

Gross advances on residential loans issued to individuals in the United Kingdom (UK) from 2015 to the second quarter of 2021 in this statistic are distributed by loan purpose. In the second quarter of 2020, the share of house purchase loans dropped due to the coronavirus pandemic and the disruption of normal business activities. This share recovered in the following quarters and reached over 75 percent in the second quarter of 2021.

- Note the loans for house purchase dropped in Q2 2020 because of the pandemic, but recovered in the following quarters. So the %-age of mortgages for home ownership is again at pre-pandemic levels at 53.0%, down 10.9pp from 2020 Q4.(FCA)
- The share of gross advances for remortgages for owner occupation also moved towards levels observed before the pandemic, at 28.1%, an increase of 9.7pp since 2020 Q4.(FCA)
- The outstanding value of all residential mortgage loans was £1,613.4 billion at the end of 2021 Q4, 4.7% higher than a year earlier.
- The value of gross mortgage advances in 2021 Q4 was £70.2 billion, 8.4% lower than in 2020 Q4 as shown above in Facts, and this is the lowest level since 2020 Q3.

Introduction
Standard Variable Rate
Tracker
Discount
Fixed rate
Repayment
Interest only
Flexible
Buy to let
Pension
Introduction
Click on any of the tabs on the right to see more information
Standard Variable Rate
Tracker
Discount
Fixed rate
Repayment
Interest only
Flexible
Buy to let
Pension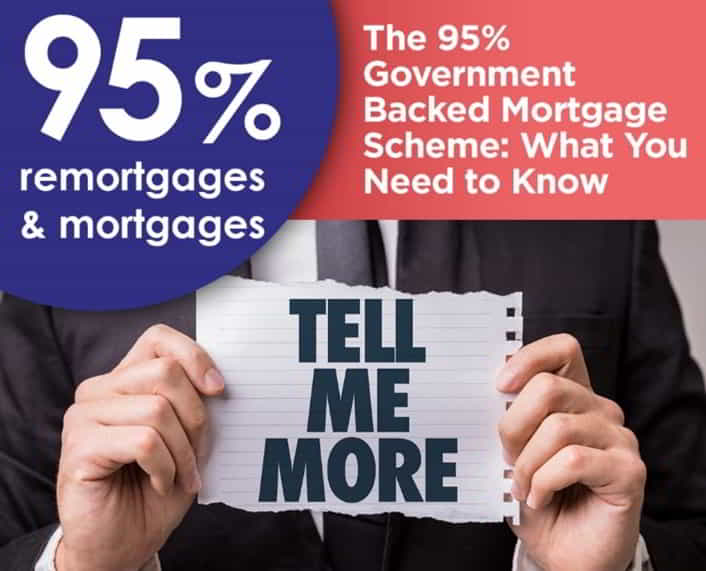 Government backed mortgage scheme
Lifetime Individual Savings Account (LISA)
You can use a LISA to buy your first home (for a property costing £450,000or less) or save for later life. You must be aged between 18 and 39 to open a LISA.

You can put in up to £4,000 each year, until you're 50. You must make your first payment into your ISA before you're 40. The government will add a 25% bonus to your savings, up to a maximum of £1,000 a year.

If you're buying with another first-time buyer who also has a LISA, you can both use your LISA towards the same property.

Be aware that there's a penalty for taking money out of a LISA if you're not putting it towards a deposit or withdrawing after age 60.
Introductions
Help to Buy ISA
Help to Buy: Mortgage guarantee scheme s
Right to Buy and Right to Acquire
Shared ownership
People with disabilities
Older people home ownership
Introductions
Click on any of the tabs on the right to see more information
Help to Buy ISA
Help to Buy: Mortgage guarantee scheme s
Right to Buy and Right to Acquire
Shared ownership
People with disabilities
Older people home ownership
Clicking the button on the back gives you more information and YouDrive's view!
Whether choosing an interest only, repayment or offset mortgage or renting,
I'll seek professional advice
I'll make the decision myself
to get the right answer
You can register to join us as a member, when you'll be able to download our stuff and comment, or as a YouDriver when you'll also be able to check your health and set up your own action plans to make some improvements.  If you've already registered, sign in below. Or let us know what you think.
In this 17 minute video MamaFurFur explains the basics of mortgages
It doesn't matter what stage  you're at – it's important to be the best you can be.  At the end of the day it's about taking personal responsibility – You Drive!
It's really your choice. You can find out more information about the subject, or see other institutions that can help by going to Support. There you will find organisations, training, coaching, self-help courses and other items to support your personal change. We have also started developing a panel of experts to provide info, advice, help and support. 
There are times when you need some help to meet your aims –  a helping hand. That might be  an organisation that can provide you with some help,  some specialised information, a particular book or tool to help, or just getting some background reading material.
We have a lot of items which appear on our Drives and other pages, which you can go to by clicking on the picture or link.  Some contain affiliate links and we may receive a tiny commission for purchases made through these links.
If you know of anything which could help you or our other visitors then please click the button on the right, which will take you to a Contacts page where you contact us.
Experts
We are compiling a list of experts who can provide advice, help or specialised services.  You will be able to access these experts from anywhere on our site you see our 'Experts' symbol.  Click the green E to see what our Experts list will look like, with a couple of imaginary 'experts' added!
Scroll down to see more information on this Drive. 
If you register you can also download reports, white papers, quizzes and other collaterals.  We will never ask you for any financial information, and we'll only send you the information you want. You can register for our site either above or in the footer below.  You can provide your own questions and experiences in order to help other members.  We only moderate for spam and inflammatory language – see our moderation policy.
If you've found this interesting, then please share it on social media.  Choose your network!
How to Buy Your First Home
(And How to Sell it Too)
Phil Spencer, property expert and co-presenter of hit series Location, Location, Location, provides everything you need to know to help you buy (and sell) your first home
The Complete Guide to Property Investment
How to survive & thrive in the new world of buy-to-let
Over the last 20 years, more than a million Brits have made life-changing profits from buy-to-let. But as prices keep rising and the tax landscape changes, investors need to get smarter in order to succeed.
Help me, I'm buying a house
A practical guide for buying your own home in England and Wales. From First Time Buyers, for First Time Buyers and those who don't know what they are doing.
Almost 300 pages of hands-on guidance. An essential and fun read about buying your own home – from First Time Buyers, for First Time Buyers. Illustrated by Ben Jones to make you smile.
45 Ways to Buy Property
Strategies and tactics to build your property portfolio
Property provides a rare opportunity to create wealth and replace your income, do you want to replace your income in 2022?
But, it's an area shrouded in mystery. How do people grow a portfolio of 20, 30 or 40 properties?
Citizens Advice have information on managing your mortgage
MoneyHelper give some guidance on mortgages
The Financial Conduct Authority have some tips and advice on finding an adviser
Scope provide advice for disabled people on getting a mortgage
MoneySupermarket have a mortgage calculator