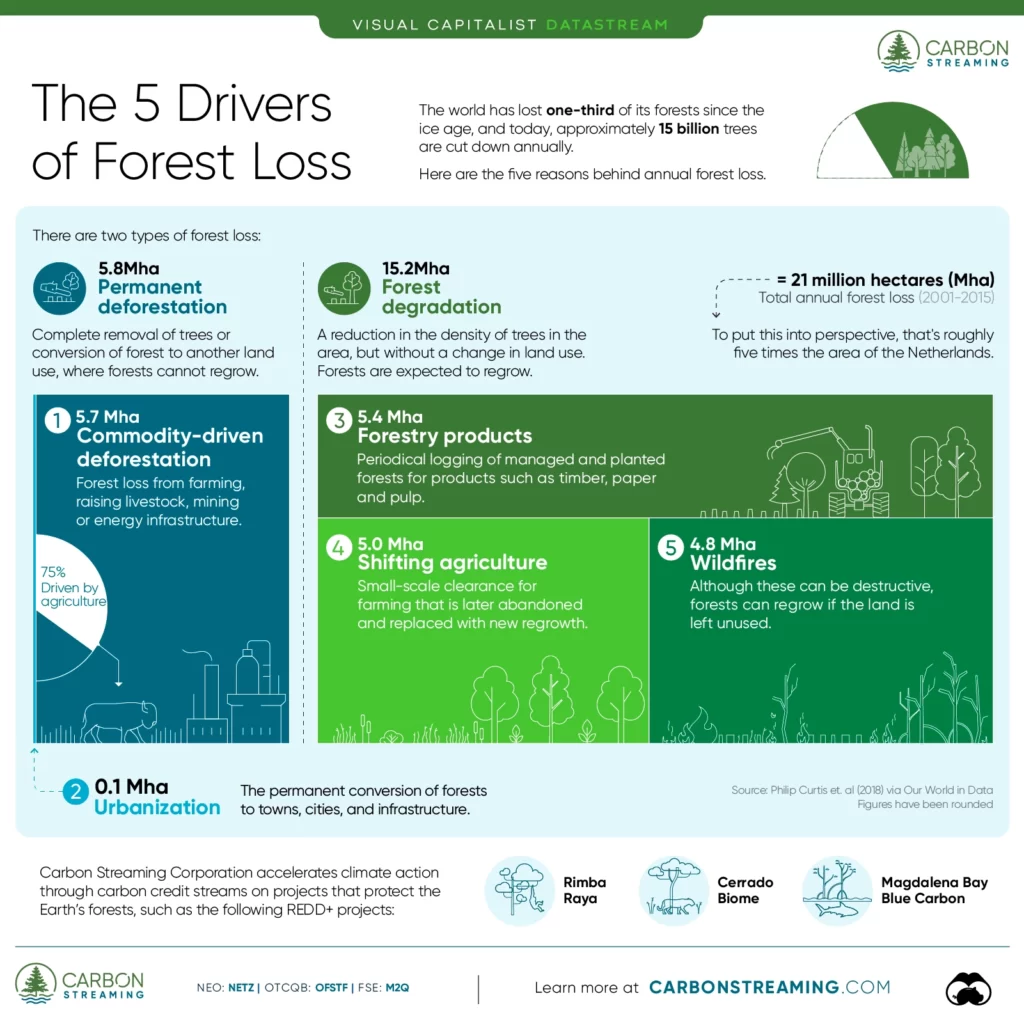 Global - Forest Loss
Visual Capitalist provide infographics - this is sponsored by the Carbon Streaming Corporation..

They say: The world has lost one-third of its trees since the ice age, and today, approximately 15 billion trees are cut down annually.

Here are five reasons behind annual forest loss.

There is a difference between deforestation which means removal of trees for another use - in this case the forest cannot regrow, and forest degradation - where trees reduce in number but the forest can regrow.

The impact of forests on carbon dioxide levels is significant - on a net basis they take 7.6 billion tonnes of carbon dioxide, equating to 15% of global emmissions.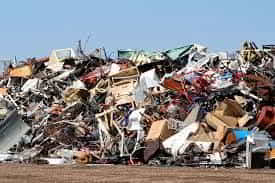 Rubbish
Have you ever visited a council tip with rubbish and seen how much crap we actually produce and throw away? It's vast and if we don't stop it, we are in danger of destroying our planet for future generations.

Overall, in the UK 2021 The UK government are only recycling 45% of all household waste and this has roughly been the same for the last 5 years according to the most recent DEFRA Report.
Total UK Waste from Household generation was 26.4 million tonnes in 2019. This level of tonnes hasn't changed much over the last few years. On top of these 3.8 million tonnes goes into landfill from unrecyclable packaging and 6.6 million tonnes of partly biodegradable waste and 5.2 million tonnes of construction and demolition waste. Total 42 million tonnes going into landfill.
But, imagine 42 million tonnes going into the ground across the UK ever year over your lifetime say 80 years. Imagine how can we explain this to future generations when we knew we were so wasteful and didn't do enough to sort the problem.
We all can play our part but industry has to play its part as well. Manufacturing things that break after a short time with no regard for what we do with that item is corporate negligence.
We have one planet and we owe it to our grandchildren and those generations not born yet to do our bit to make it all sustainable.
of food is wasted by the food industry every year in the UK. (WRAP)
of the food that goes to waste each year is still edible That's enough for 650 million meals. (WRAP)
go to landfill every year in the UK alone. That's enough to completely fill Wembley Stadium five times over.
is what British households throw away every year (WRAP)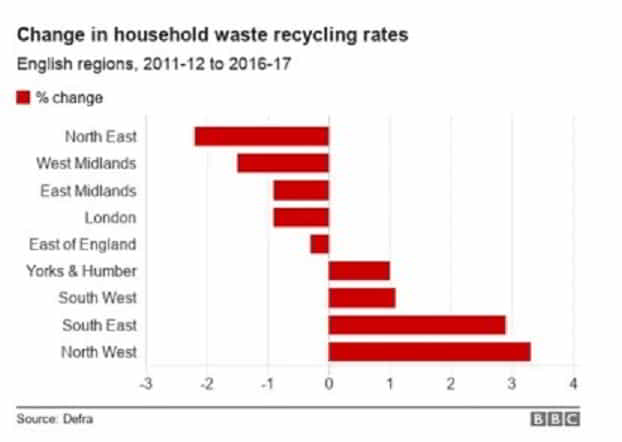 Household waste and what happens to it
Let's look at some simple small facts that added up can mean a lot, especially if there are 50 million of us doing it: Breaking a habit Is often hard or even impossible for some, as any smoker or heavy drinker.
• 1 recycled tin can would save enough energy to power a television for 3 hours.
• But if you recycled absolutely everything you could in your bin, you could power a TV for 5000 hours, plenty of time to get those boxsets in!
• 1 recycled glass bottle will save enough energy to power a computer for 25 minutes.
• 1 recycled plastic bottle would save enough energy to power a light bulb for 3 hours.
• 70% less energy is needed to recycle paper as opposed to making it from raw materials.
• Researchers says that up to 80% of the things we throw away could be easily recycled
• We send over 20,000 tonnes of batteries to landfill each year, and it takes 50 times more energy to make a battery than you actually get from a battery.
Research from WRAP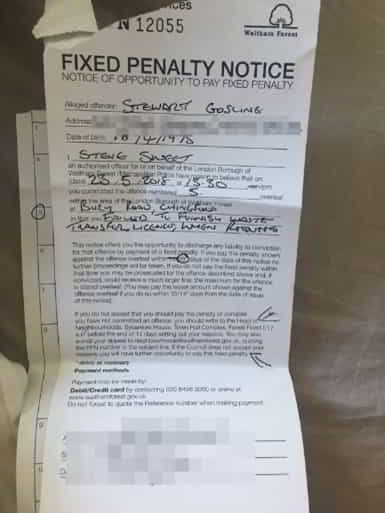 What happens if we recycle wrongly?
Councils have threatened people who put rubbish in the wrong bin on a repeated basis with fines of up to £100. BBC News on April 12 2018 said:

"Earlier this year Chichester councillors approved new fines for residents who repeatedly put the wrong items in their recycling bins..

Residents in Welsh local authority Rhondda Cynon Taf who mix recyclables in with their residual waste can also face a £100 on-the-spot fine."

However, new government guidelines have aimed at a more measured and balanced approach.

Strangely councils are fining members of the public for not putting the right items in the right bins but we are not fining the councils or the government for only recycling 45% of overall waste.
Or Councils are not fining large manufacturers for packaging their products that cannot be recycled.
Or the government over that last 50 years have allowed MacDonalds, KFC, burger king, Costa to produce and sell cartons that are not recyclable think over the last 50 years how many billions of tons have ended in landfill and the councils/government did nothing.
Or supermarkets/retailers who produce plastic wraps and packaging over the last 50 years that is not recyclable.
IN 2019 MacDonalds/KFC claimed all there packaging was now 100% recyclable. Why now!! After 20 years of promoting waste management have MacDonalds decided to do this. My guess is it isn't that they care it's because they don't want to lose market share or get a bad name because they have filled endless landfills with plastic that will take 400 years to break down.
It's estimated that consumers who purchase fast-food for lunch generate about 11 billion items of packaging waste a year.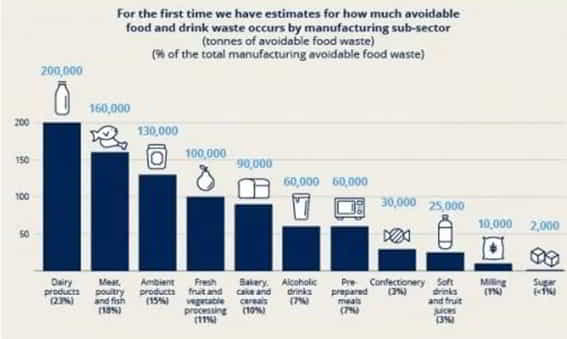 Food and Drink Waste Hard Facts
Over the last few decades, astonishingly production of food in developed countries has increasingly topped demand. Today, various reports suggest that between one third and one half of all food produced worldwide is wasted. In 2012, 5.8 million tons of food waste and 1.2 million tons of drink waste were produced. That same year, 1.6 million tons of fresh vegetables and salads were squandered in the United Kingdom, making it the most wasted food group, with the amount of avoidable fresh vegetable and salad waste reaching 810 thousand tons.

But where is this waste occurring? The chart shows a summary by subsector. You can see the whole infographic by clicking on the heading for the Infographic below.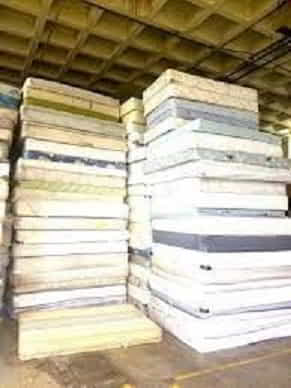 22 million pieces of furniture are discarded each year in the UK

- The UK recycling rate for Waste from Households (WfH; including Incinerator Bottom Ash metal (IBAm)) was 46.2% in 2019, increasing from 45.0% in 2018.
- The recycling rate for WfH increased in all UK countries in 2019. The recycling rate for England was 45.5%, compared with 50.6% in Northern Ireland, 44.9% in Scotland, and 56.4% in Wales.
- UK biodegradable municipal waste (BMW) sent to landfill has fallen from approximately 7.2 million tonnes in 2018 to around 6.6 million tonnes in 2019.
- Provisional figures for 2020 show that 67.2% of UK packaging waste was either recycled or recovered, the same as in 2019.
- 59% of all plastic bottles are collected for recycling - this includes all plastic bottles, such as shampoo and bleach bottles, etc. but Greenpeace say it is less than 10% of everyday plastic that is recycled.
- Total UK Waste from Household generation was 26.4 million tonnes in 2019

Of this alone, UK households are throwing away 155,000 tonnes of domestic electrical waste every year and we are hoarding 527 million small old electricals, weighing around 190,000 tonnes – nearly 20 items per household. "In addition, 145,000 tonnes of commercial and industrial waste is also being thrown away."6 Jul 2020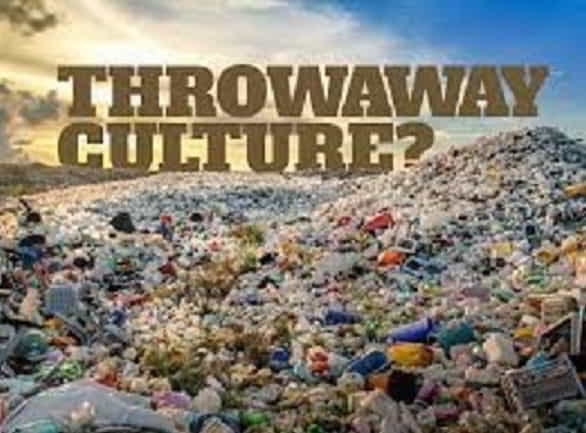 The UK throw away culture
For many years the UK consumers have gone crazy buying more and more tools and electrical appliances such as chain saws and electric screwdrivers and usually they are made in China. They tend to be cheap in comparison to other companies and don't seem to last very long. When they break we merrily without thought take them to the council tip and dispose of them. Up until 2020 they went into landfill. The Government decided in 2020 that manufacturers need to adopt a repair policy instead of throw away policy, which is a good step forward. But think of all the children's plastic toys we buy each year. Less than 10% are recyclable. 90% end up in landfills.

If your child hasn't played with their new toy after a year, take it to a charity shop and give it to them to sell to someone else. You get a double whammy by giving them to someone else and the charity raises much needed funds.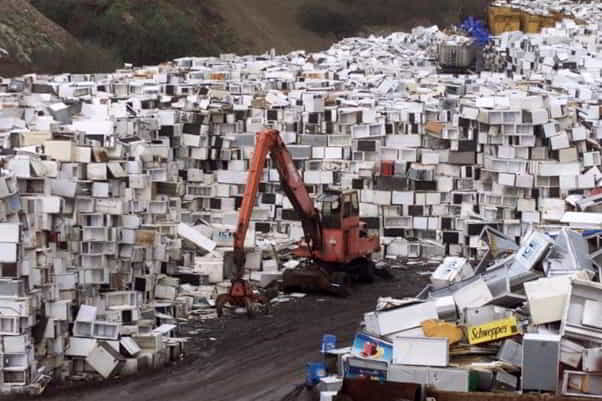 In your living room, in your car, shopping in the supermarket, in the office, outside walking. Just stop for a second and look at every item you can see. Ask yourself - what is it? What's it made of? How long will it last? What will happen when it's no longer needed - where will it go? Can It be recycled?

We take things like this for granted. Back in 2017 news headlines came out saying your morning coffee bought at a fast food outlet, 100% is not recyclable. Most of us stopped and thought "Really!!" Then many people started to think, who would allow a corporate company making billions of profit manufacture something that takes 400 years to degrade when they aren't even responsible for the waste. Most people would see that as dreadful. But it's been happening all over the world and governments have allowed it.

Just stop for a moment and challenge yourself to care. You will see how much we manufacture but when it's no longer needed it goes to the landfill.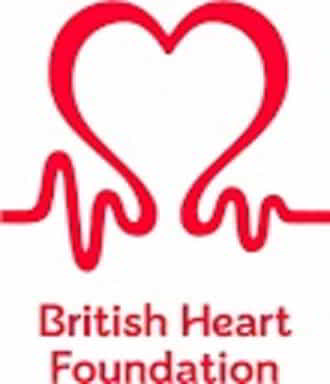 Survey by British Heart foundation who accepts charitable donations such as furniture Image:
Despite the war on waste, thousands of homeowners and renters are chucking good quality furniture or homeware.

• Just under a third of people (30%) have thrown away furniture, electrical items and homewares in good enough condition that they could have been re-used, sold or donated
• A fifth of 16-24 year olds (19%) 'don't know' how to recycle or donate
• Over 55s were far less likely to get rid of items than those age 16-24 (21% vs 45%)
• Nearly half of Londoners (45%) have thrown away good quality furniture, electrical items and homewares that could have been resold.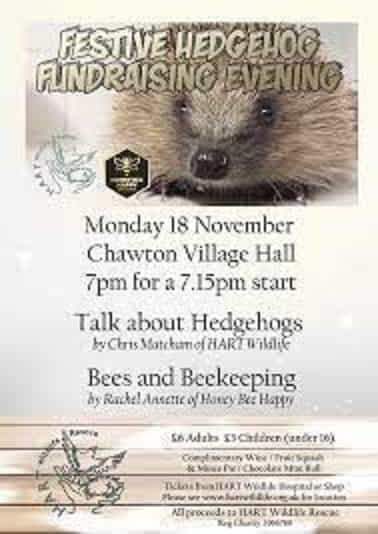 The most recent RSPB State of Nature report, which brings together findings from 50 organisations, suggests there has been a 59 per cent decline in insects in the UK since 1970.

This combined with the reduction in bees and butterflies in making the environmentalists concerned. Birds rely on insects as do other creatures such Hedgehogs.

The most recent RSPB State of Nature report, which brings together findings from 50 organisations, suggests there has been a 59 per cent decline in insects in the UK since 1970. This combined with the reduction in bees and butterflies is making the environmentalists concerned. Birds rely on insects as do other creatures such as hedgehogs.

You can make the world around you a natural haven for animals, you're in control and in charge. If you plan your garden to be nature friendly you will be doing your bit for the environment and given yourself and your family some visual and audible pleasure.

If you're in a city volunteer for the local park activities. Get your family involved and see how much fun it is. We cannot always save the whole world but if we all start to manage the environment around us and one, we can control then nature will return to a balance. After all we all part of the circle.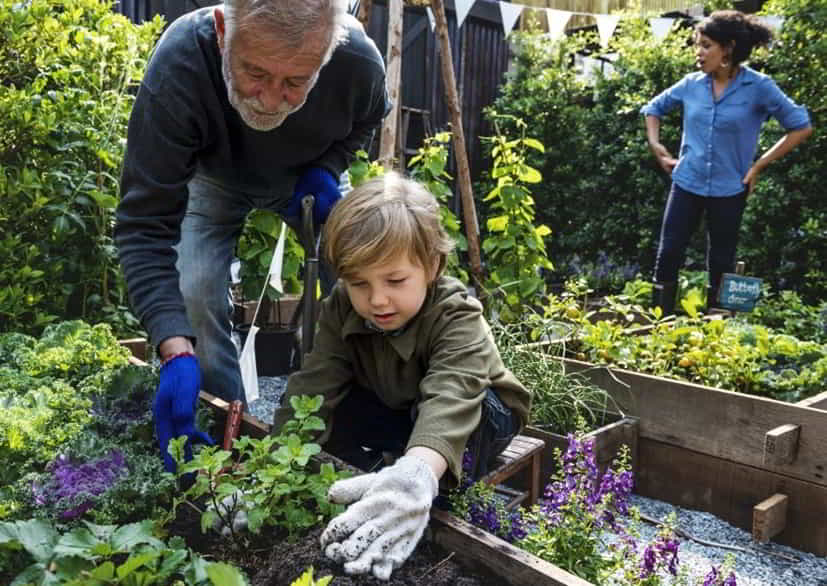 Can we make a real difference?
Yes we can, with even the smallest of things.
Make your garden an environmentally friendly place for all wildlife and make your contribution to protecting the environment around you.

• Don't just buy flower plants, look to buy plants that attract different insects – in turn these attract different birds to visit your garden
• Creatures need 3 things to come and live in your garden: food, shelter and water.
• Buy different types of shrubs, some of which produce berries for the winter birds. Or buy prickly shrubs for nesting birds
• Avoid pesticides on your flowers. Read the label to see if they hurt other things in your garden
• Buy an insect house or make one
• An old dish, pot sink or even a large baking pan with a small stone in the centre will attract lots of birds. Even better try a large flat tray 3cm thick and watch the birds take a bath
• Have some nesting boxes but make sure they are hidden enough so birds will nest and predators don't find them
• An old wooden box with a 4-inch square hole hidden under bushes with straw inside is a perfect place for a home for a hedgehog
• Buy mixed bird food and spread it around on different tables so that bigger birds don't scoff the lot
• Don't just bin unwanted fruit and veg or bread, just pop them out for the animal
• In winter feed more especially fat balls and protein. Periods of minus temperature kill small birds as they have no tolerance level
Regarding food and household things:
• Try to buy only recyclable items
• Buy loose fruit and veg
• Buy products with the least packaging
• Lobby your Member of Parliament to force councils and industry to do more to avoid waste
• Use charities for old furniture and mattresses
• Don't be a snob mattress buyer. Buy second hand and put a good quality mattress protector over it. At the end of the day, you stay in hotels and sleep on their beds as do thousands.
• Recycle your old toys
• When emptying bereaved homes approach charities first rather than furniture clearance companies. They take the best stuff and tip the rest in the landfill.
• Recycle all your clothes and shoes
You can register to join us as a member, when you'll be able to download our stuff and comment, or as a YouDriver when you'll also be able to check your health and set up your own action plans to make some improvements.  If you've already registered, sign in below. Or let us know what you think.
One planet, One home, One chance
SOME STARK IMAGES!!
This video from acleanpeace shows some very unsettling images – we hope you don't find it too upsetting!
"I only feel angry when I see waste. When I see people throwing away things we could use."
It doesn't matter what stage  you're at – it's important to be the best you can be.  At the end of the day it's about taking personal responsibility – You Drive!
It's really your choice. You can find out more information about the subject, or see other institutions that can help by going to Support. There you will find organisations, training, coaching, self-help courses and other items to support your personal change. We have also started developing a panel of experts to provide info, advice, help and support. 
There are times when you need some help to meet your aims –  a helping hand. That might be  an organisation that can provide you with some help,  some specialised information, a particular book or tool to help, or just getting some background reading material.
We have a lot of items which appear on our Drives and other pages, which you can go to by clicking on the picture or link.  Some contain affiliate links and we may receive a tiny commission for purchases made through these links.
If you know of anything which could help you or our other visitors then please click the button on the right, which will take you to a Contacts page where you contact us.
Experts
We are compiling a list of experts who can provide advice, help or specialised services.  You will be able to access these experts from anywhere on our site you see our 'Experts' symbol.  Click the green E to see what our Experts list will look like, with a couple of imaginary 'experts' added!
Scroll down to see more information on this Drive. 
If you register you can also download reports, white papers, quizzes and other collaterals.  We will never ask you for any financial information, and we'll only send you the information you want. You can register for our site either above or in the footer below.  You can provide your own questions and experiences in order to help other members.  We only moderate for spam and inflammatory language – see our moderation policy.
If you've found this interesting, then please share it on social media.  Choose your network!
Recycling (Green Planet)
In Recycling, early fluent readers learn about how everyday products and packaging can be broken down and reconstructed into new items. Vibrant, full-color photos and carefully leveled text engage young readers as they learn about the science behind recycling.
Beyond Recycling
Paperback
Beyond Recycling critically explores unasked questions around recycling and its prominent position in contemporary thinking about sustainability. It examines and challenges assumptions about why we appear to have so wholeheartedly committed to recycling as a cultural project.
My Family and Other Animals
The Corfu Trilogy 1 Paperback
My Family and Other Animals is the bewitching account of a rare and magical childhood on the island of Corfu by treasured British conservationist Gerald Durrell.
Flower Bee Balls
Native Wildflower Seed Balls, Grow Beautiful Flowers in Your Garden to Help Bring Back The Bees, Perfect Eco-Gift for The Gardener in Your Life
SAVE THE BEES! – Do something incredible and help to provide an environment that is bee friendly.  These balls contain a stunning mix of UK Wildflower seeds that will grow into a beautiful wildflower patch
Friends of the Earth are a campaigning group with local groups all over the UK
The Woodlands Trust protect trees, woods and wildlife
Recyclingbins.co.uk have a lot of interesting facts about recycling